We attract interesting people, aren't too overcrowded and has a great atmosphere.
Bournemouth's got sun, sea, students and something for all ages. With indelible interiors, plush furnishings, unusual ornamentation and friendly staff, Canvas is calling. Our trendy cocktail bar attracts interesting people, isn't too overcrowded and has a great atmosphere. It's no wonder our town is so renowned for being a go-to destination for nights out in the UK. Sure, this MIGHT be thanks to Bournemouth's sweeping sea views, buzzing town and top-notch entertainment . . . but we like to think it's because of our cocktail bar in Bournemouth.
Indulge in our cocktail bar in Bournemouth's relaxed, refined and intimate atmosphere.
Featuring three unique venues and an eclectic range of drinks, Canvas has earned its reputation as a top cocktail bar in Bournemouth. We offer an affordable yet spectacular cocktail selection. One that's expertly made and simply served. Fresh ingredients and artisan gins, rums and whisky, makes our cocktail bar in Bournemouth a coastal oasis. No matter whether you'd like to partake in an aperitif, meet for martinis or post-dinner cocktails, our cocktail bar in Bournemouth is the place to be. Freely explore the nuanced garnishes and flavours of each drink on the menu without the need for extended explanations. Our experienced bartenders offer an outstanding range of drinks served in luxurious surroundings.
Live Lounge
We go loud and late every weekend.
The stage is set for a medley of world-class artists to engage in an intimate live music experience. Get buzzed by our vibrant atmosphere and immersive lighting and party all night long in our award-winning live lounge. Your experience can be made all the more personal with our venue's four large private seated booths. Our cocktail bar in Bournemouth prides itself on our enviable and budget-friendly range of buffet and canapé options.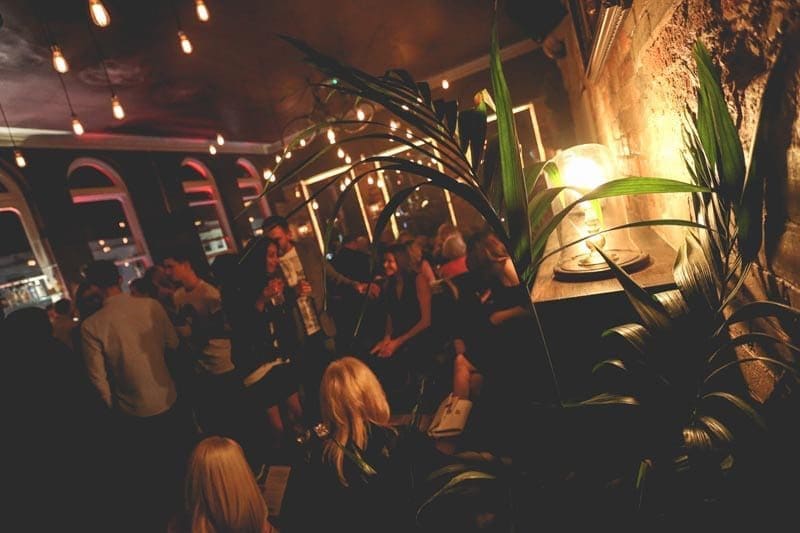 Featuring a spectacular selection of spirit.
With a mind-blowing array of whiskey, rum and gins, our cocktail bar in Bournemouth offers some of the best concoctions known to mixology. Alongside an assortment of champagne, wine and cocktail offerings, you can relax, unwind and get ready for a good time at Canvas. With a capacity of approximately 100 standing and 45 seated, it can open up into the Live Lounge should your party require any additional space.
The Green Room
Shh! This is the latest addition to Canvas.
Waltz into a world of intrigue and step into the soles of flappers or clubmen back in the days of prohibition America. Hidden away from the rest of Canvas, this luxury speakeasy evokes insatiable feelings that we Brits simply can't resist. So why not revisit the roaring twenties with over 50 gins locked away just for you and your party. In addition to this, our cocktail bar in Bournemouth serves up cocktails, canapés and a brilliant buffet too.
Looking for the go-to cocktail bar in Bournemouth?
Open Friday and Saturday nights, we go loud and late every weekend.
Located in Bournemouth's Soho Quarter and known as "Bournemouth's award-winning loft bar and live lounge" Canvas is the place to be. Our venue sports a huge emphasis on showcasing high-quality live acts and dynamic DJs. This, mixed with our award-winning bartenders, incredible cocktails and artisan décor, gives us our winning formula.
Get in touch. Canvas is calling.
Please use our contact form below to reach out to our cocktail bar in Bournemouth.
Best venue to open in Bournemouth in years. Love the atmosphere , food and music. The coolest decor . It's like being in a New York loft apartment . It's the sort of place that you like to spend time in because it envelops you and makes you feel good, you don't want to leave!! Love it
Absolutely loved this stylish, sophisticated new loft bar. The decor was chic and sexy, with great music and buzzing atmosphere!