The perfect private venue for hire
Nothing blows away the cobwebs quite like a good night out.
If you're looking to let your hair down and bring your team back together in a safe, fun and auspicious environment, we can help. Canvas is a perfect private venue for hire in the buzzing resort town of Bournemouth. Hosting some of the most popular tourist destinations on the South Coast, Bournemouth is a hive of entertainment. It's because of this that our private venue for hire attracts so many different crowds. So, whether you wish to celebrate a birthday, herald the end of something great or utilise the space for a corporate event, know that Canvas delivers. Home to plush seating, live music and unique multi-purpose rooms that are great for socialising and alternative work dos, we have it all.
While private parties might vary in size and mood – from intimate gatherings to big business blowouts – they all have one thing in common . . . a great venue is crucial for organising a successful one. At Canvas, we understand that aesthetics and sound are crucial attributes when it comes to settling on a private venue for hire. After all, you want your gaff to be the talk of the town should your guests decided to venture off for an impromptu after-party. That's why our private venue for hire features state-of-the-art sound systems, dance floors and a lively atmosphere. In addition to this, you can fuel the party with our sumptuous food, flowing drinks and bubbly staff.
Canvas caters to parties of all sizes. So know that whatever room you choose, your guests will always be in good hands with our friendly team.
Live Lounge
We go loud and late every weekend.
Get buzzed by our vibrant atmosphere and party all night long in our award-winning live lounge. Rigged up with immersive lighting, the stage is set for a medley of world-class artists to engage in an intimate live music experience. This can be made all the more personal with our venue's four large private seated booths. This venue is also perfect for use as a private venue for hire. However, the live lounge is only available as a to hire on Saturdays and Sundays – so act quickly! You never know who might swoop in to steal the spotlight. In addition to this, we pride ourselves on our enviable range buffet and canapé options suited to your budget.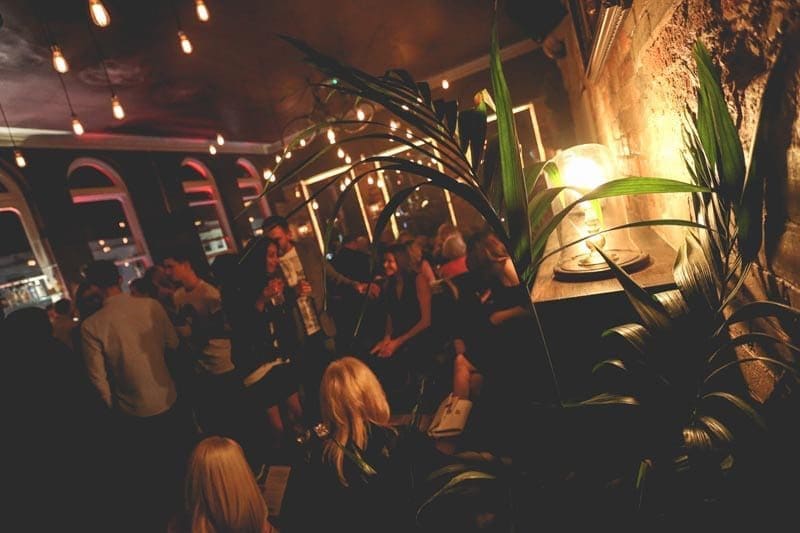 Featuring a spectacular selection of spirit.
Boasting a mind-blowing array of whiskey, rum and gins – along with an assortment of champagne, wine and cocktail offerings – our main cocktail bar offers some of the best concoctions known to mixology. Relax, unwind and get ready for a good time at Canvas. While this private venue for hire encourages mixing and mingling, it's only available during the daytime. If not, it's available on days when we are closed to the public (such as Monday and Tuesday). With a capacity of approximately 100 standing and 45 seated, it can open up into the Live Lounge should your party require additional space. 
The Green Room
Shh! This is the latest addition to Canvas.
For those looking for a private venue for hire with a twist, look no more. Waltz into a world of intrigue and step into the soles of flappers or clubmen back in the days of prohibition America. Hidden away from the rest of Canvas, this luxury speakeasy evokes insatiable feelings amongst us Brits that we simply can't resist. After all, when you want something in this world, there's not much that will come between you and a good time. So why not revisit the roaring twenties with over 50 gins locked away just for you and your party. In addition to this, there are additional options of us serving your guests cocktails, canapés and a buffet too.
What'll happen in your private venue for hire?
Open Friday and Saturday nights, we go loud and late every weekend.
Located in Bournemouth's Soho Quarter and known as "Bournemouth's award-winning loft bar and live lounge" Canvas is the place to be. Our venue sports a huge emphasis on showcasing high-quality live acts and dynamic DJs. This, mixed with our award-winning bartenders, incredible cocktails and artisan décor, gives us our winning formula.
Get in touch. Canvas is calling.
Please use our contact form below to register interest in booking a luxury private venue for hire in Bournemouth.
Best venue to open in Bournemouth in years. Love the atmosphere , food and music. The coolest decor . It's like being in a New York loft apartment . It's the sort of place that you like to spend time in because it envelops you and makes you feel good, you don't want to leave!! Love it
Absolutely loved this stylish, sophisticated new loft bar. The decor was chic and sexy, with great music and buzzing atmosphere!